About Cavity Formation
There are multiple steps in the formation of a cavity. First, bacteria that develop on the teeth between twice-daily brushing break down sugars in all the foods we eat and drink. These bacteria produce acid, which can attack and dissolve tooth enamel.
Ultimately, calcium is lost from the enamel, resulting in a weak spot, the first stage of cavity development. If left unchecked or untreated, tooth decay continues and a cavity develops. With proper management and intervention, early forms of tooth decay – known as caries – can actually be stopped and reversed.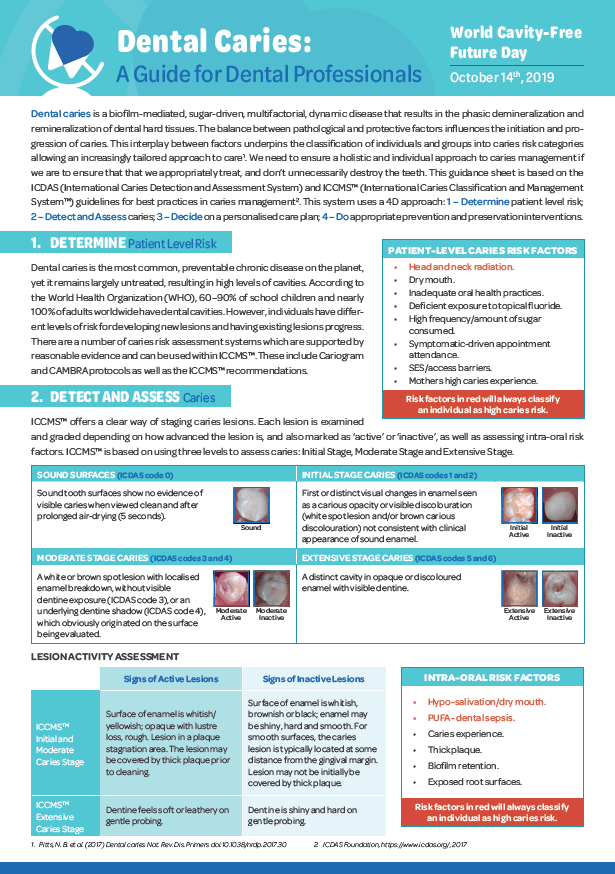 Download our educational guides on Dental Caries for dental professionals, healthcare professionals and the public:
The Alliance's online resource, www.acffglobal.org, helps encourage local action by providing communities committed to stopping cavities with a place to mobilize resources, share best practices and connect with other stakeholders. Developed for both professionals and families, this online resource includes tools such as:
Family checklists of steps to maintain and improve oral health in adults and children
Educational materials on ways to prevent cavities
An evidence-based review of preventive technologies, including description and use, effectiveness and efficacy, recommendations and cost of dental technologies
Case studies on the effectiveness and efficacy of available dental technologies