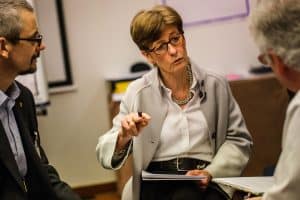 The Alliance for a Cavity-Free Future introduces change management strategies to support key
stakeholders with the efficient adoption of Europe's first, and long-awaited caries curriculum,
working towards a preventative approach in dentistry.
Key representatives from prominent European dental organisations worked together to explore
change management strategies in a workshop at the ACFF Pan-European Chapter annual
Collaborative Council Meeting, held in Amsterdam on February 23 rd 2017. The goal was to bring key
stakeholders round one table and equip them to effectively support the implementation of the
European Core Curriculum in Cariology across Europe.
The need for all dental students to receive the same core systematic education in Cariology is
regarded as of prime importance by dental professionals who are committed to reducing the global
burden of caries. The European Core Curriculum in Cariology (ECCC) was produced and published in
2011, drawing together a five year process initiated by ORCA (European Organisation for Caries
Research) and ADEE (Association for Dental Education in Europe) and built around the educational
requirements of 27 different countries. The resulting curriculum structure ensures that dental
graduates, whatever country they complete their studies in, are equipped with the core knowledge
and skills to build on research evidence and identify different stages of the caries.