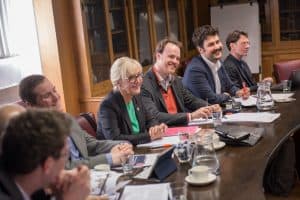 The Pan-European Chapter of the Alliance for a Cavity-Free Future (ACFF) is marking its five year
anniversary by highlighting the important recent milestones in their journey towards achieving their
goal and ensuring that each child born after 2026 remains cavity-free throughout their lifetime.
A landmark year has seen the ACFF produce a clear map of the steps required to accelerate the shift
toward a greater focus on preventative dental care. This was generated at ACFF's ground-breaking
Policy Lab workshop in June 2017 at King's College London, bringing together experts from multiple
professional disciplines to evaluate how to achieve the required steps towards a change in policy
and resource allocation.
Significant progress is already being made on a number of new fronts:
• The ICCMS™ Coordinating Committee supports the use of the Cube and is now developing a
more General Dental Practice-friendly version of its International Caries Classification and
Management System taking into account all stakeholder perspectives
• Examples of budget reallocation from treatment to early and preventive treatment, are being
highlighted by University of Porto, Portugal
• The Health Economists Policy Lab Consortium is working on an appropriate methodology to
address the Policy Lab agenda.
• Office of the Chief Dental Officer England is sharing experiences on piloting hybrid capitation
models of paying for prevention.
• King's College London Dental Institute has agreed to promote Minimally Invasive Restorative
Care (MI-RC) globally to all six types of stakeholders.